2019 is the historical year for the Sakhalin railway.
Railway gauge changes from 1067mm to Russian standard 1520mm. Sakhalin is the only 1067 mm track gauge rail in the huge Russia RZD railway. quite rare. And the old locomotives made under USSR become a history. New 1520 locomotive comming.
This shifting gauge was going to be proceed in 2018 summer. But concern about difficulty of logistics, gauge shifting postponed 1 year. Now 2019, trains in Sakhalin stop about three month. The reconstruction plan begins from 2003, finally everything to be finished in 2020.
How the fate of Russia's last "narrow gauge" on Sakhalin is being decided – EastRussia |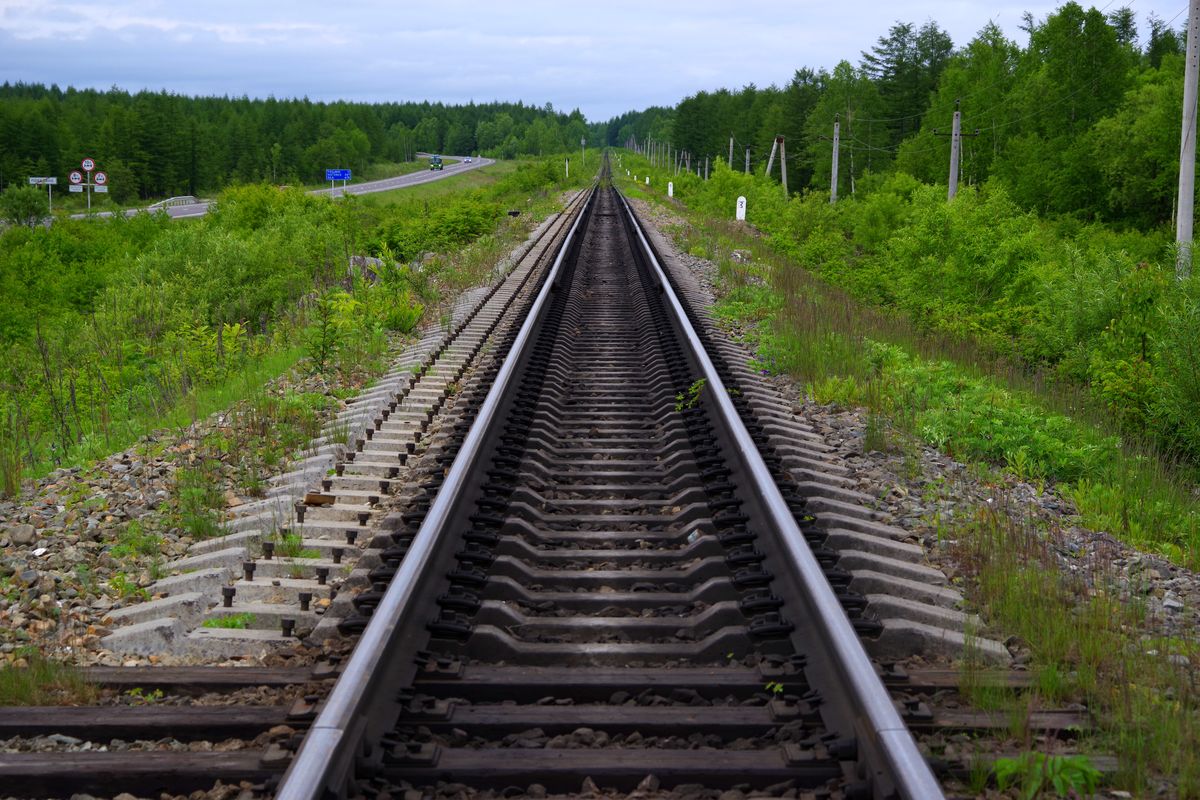 Some branch line simply stop forever because they don't make profit.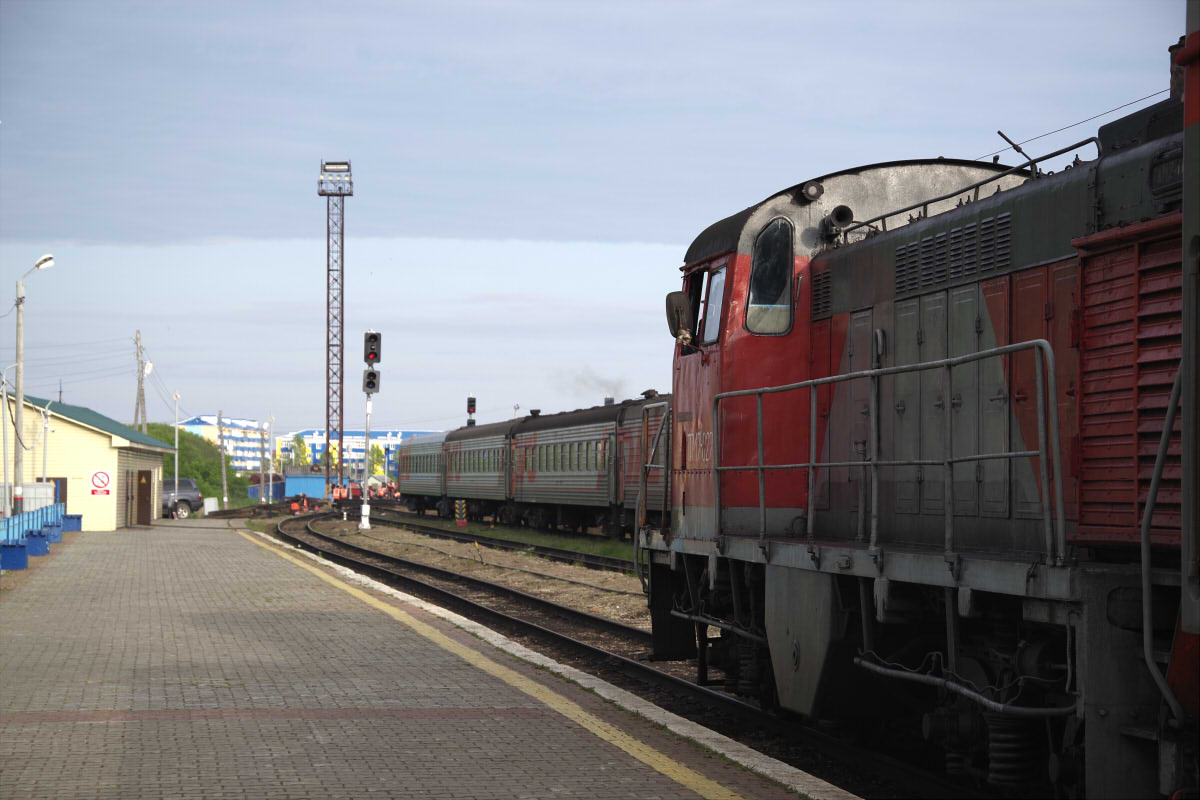 Old thing gone. this is the world.
Before old locomotives become a memory, I can go Sakhalin. Let's see the 1067 mm wheeled train.
Sakhalin railway map
This is the Sakhalin railway map.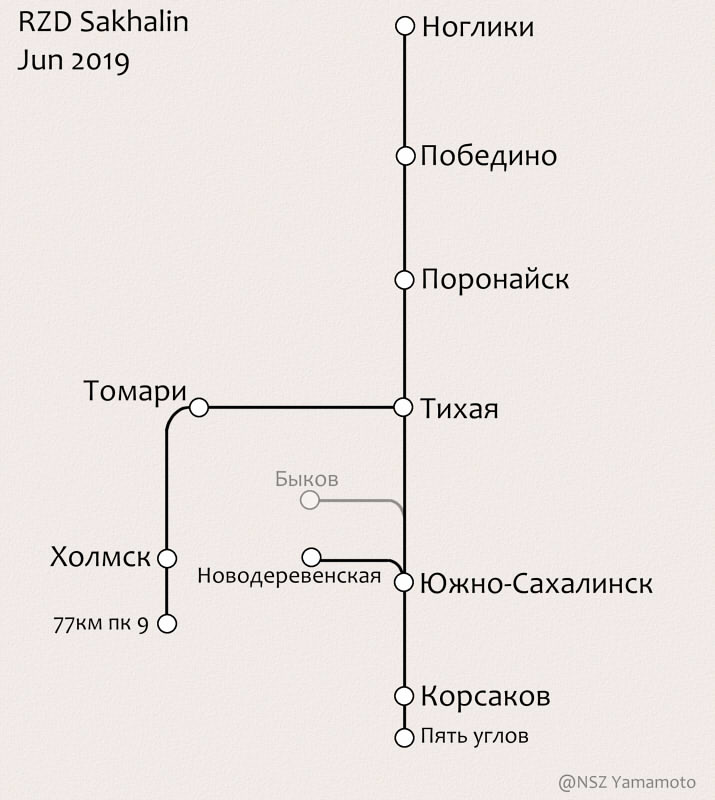 I don't visit west side- Tomari and Holmsk, so I couldn't get photos.
I visited east coast of railway. Yuzhno-Sakhalinsk – Novoderevenskoye (Новодеревенское) and Yuzhno-Sakhalinsk – Korsakov – Пять углов and Poronaysk – Nogliki
Быков is gray line because already abolished in May 31 2019. See the website report of last running and news.
«До свидания, наш поезд!»: в Быкове попрощались с железной дорогой – Новости Южно Сахалинска – astv.ru
31 мая из Быкова в Южно-Сахалинск отправится последний в истории поезд – Новости Сахалинской области – astv.ru
Вместо нескольких железнодорожных веток на Сахалине хотят построить автодороги – Новости Сахалинской области – astv.ru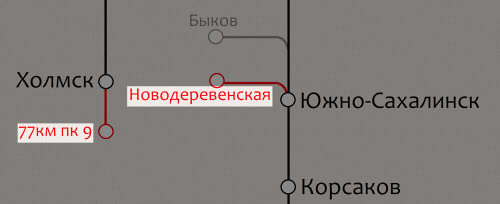 2 branch line will simply abolished
Holmsk to 77km pk9
Yuzhno-Sakhalinsk to Novoderevenskoye
Gauge changing schedule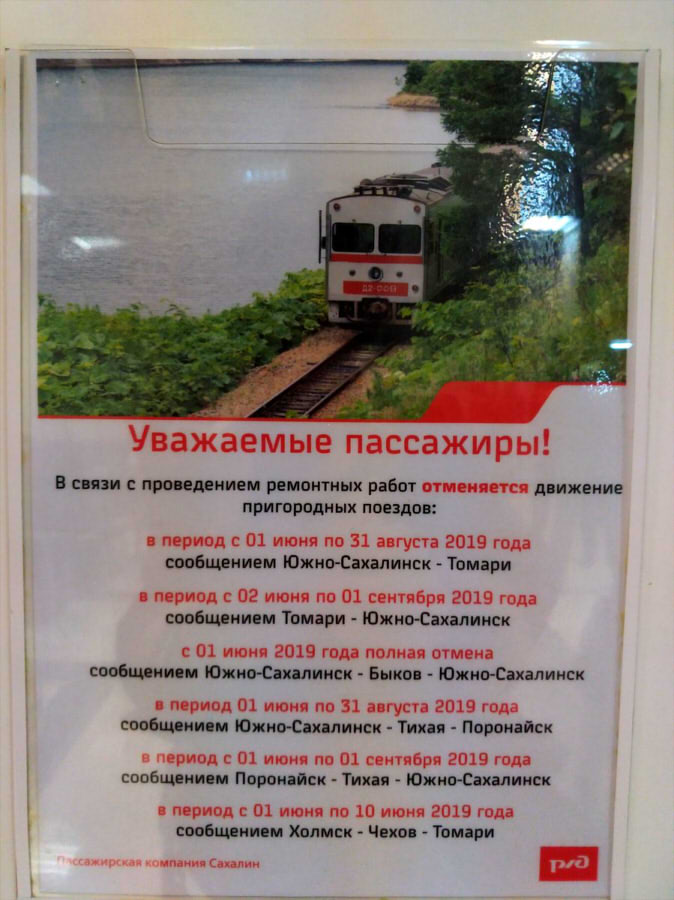 This let us know when the reconstructing starts and ends.
Stop section and Stop date bellow.
from Yuzhino-Sakhalinsk/to Yuzhino-Sakhalinsk
Yuzhno-Sakhalinsk – Tomari
Jun 01 to Aug 31 / Jun 02 to Sep 01
Yuzhno-Sakhalinsk – Bykov
June 01 to forever, means abolish the rail.
Yuzhno-Sakhalinsk – тихая – Poronaysk
Jun 01 to Aug 31 / Jun 02 to Sep 01
Holmsk – Chekhovo – Tomari
Jun 01 to Jun 10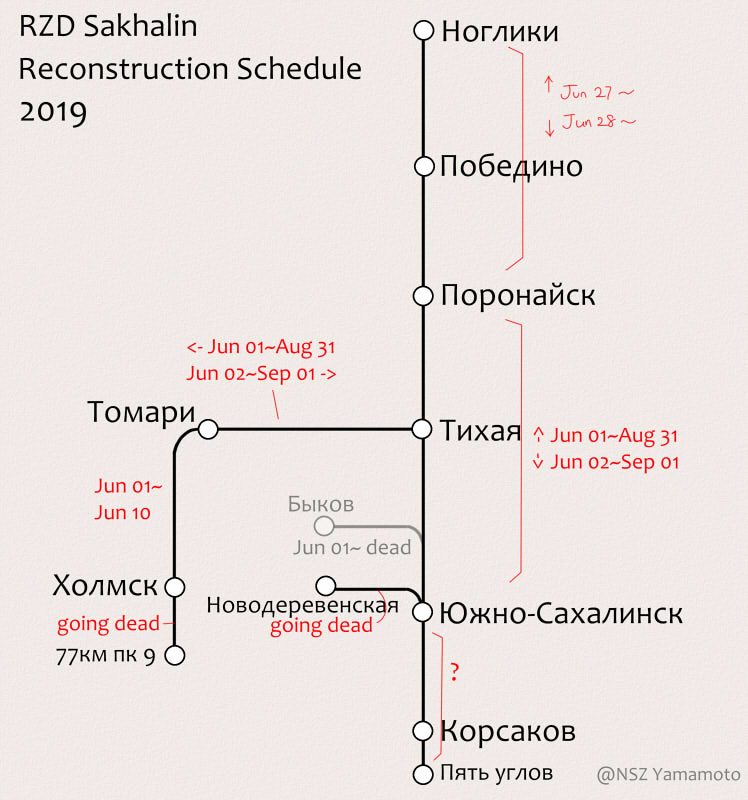 map here.
From Jun 2, Y-Sakhalinsk to Poronaysk train stops and RZD offers alternative bus this section. The northern section Poronaysk to Nogliki continued train operation yes.
From Jun 28, Poronaysl to Nogliki stops. There is completely nothing rail operation from Y-Sakhalinsk to Nogliki. RZD don't offer alternative bus for passenger, Sadly people must find bus by yourself. This section will back after the reconstruction ends.
Sakhalin Locomotives
So, I visited Sakhalin to see the final 1067 mm trains. Sakhalin rail was built by former Japan governed age. For japan citizen something meaningful. Adds there is very old locomotives built in Soviet union age, will die.
I saw 2 type of operating locomotives.  One is TGM7. The other is TG16. Both over 40 years old. Before never can see, I need make photos and ride.
ТГМ7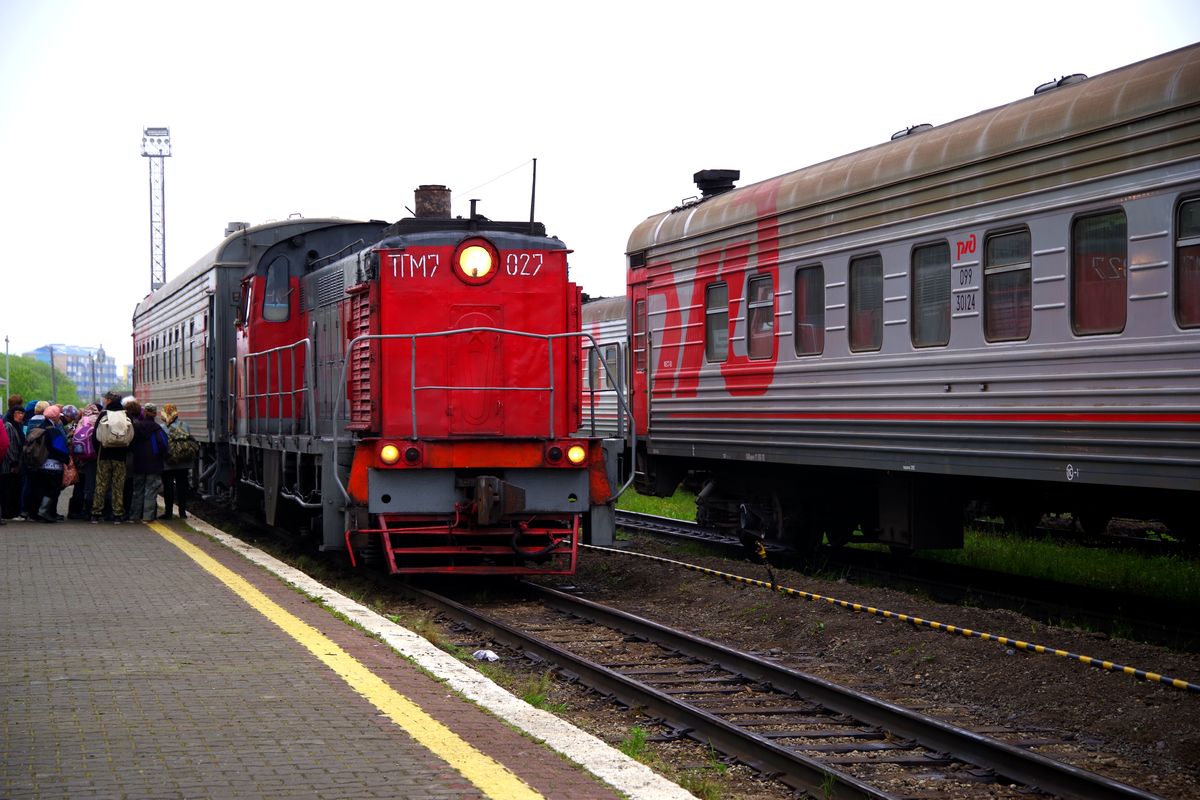 Local train runs from Poronaysk to Pobedino only one a day.
Possibly This was the final section TGM7 operated. This lovely locomotive's final operation was June 26 2019.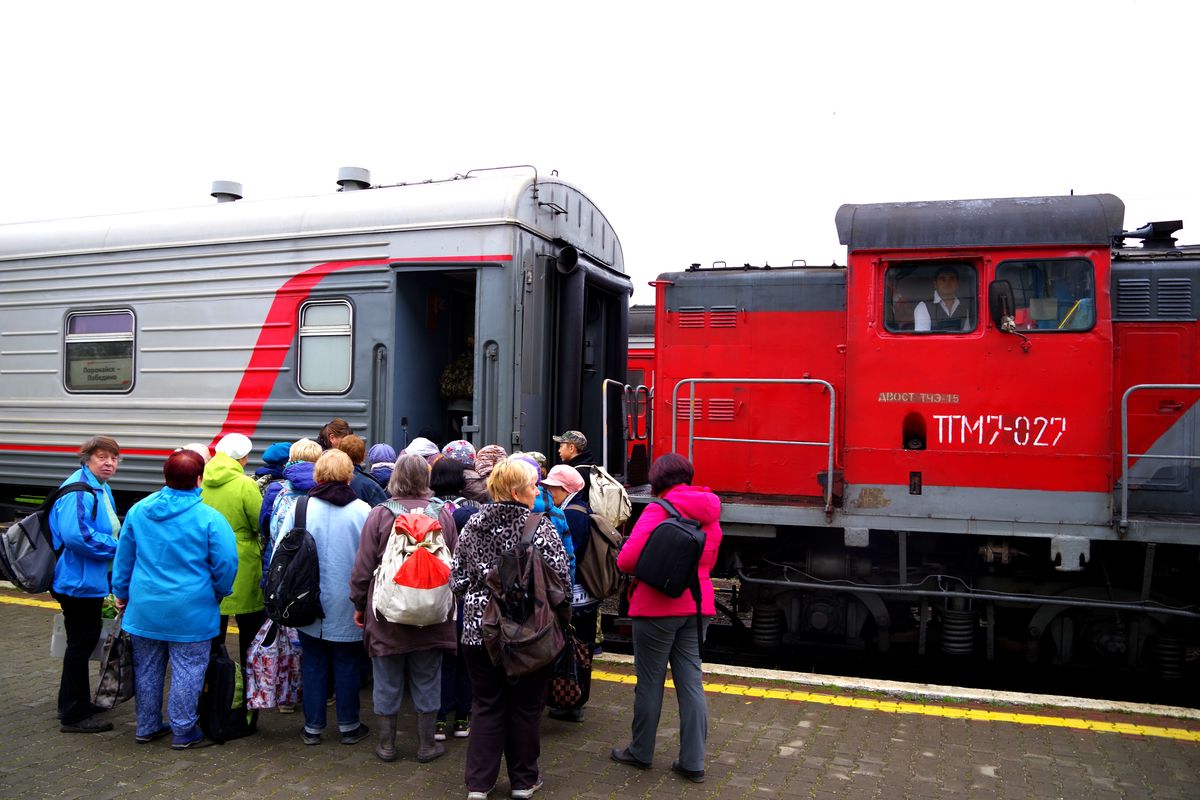 Many local people waiting. funny travel begins.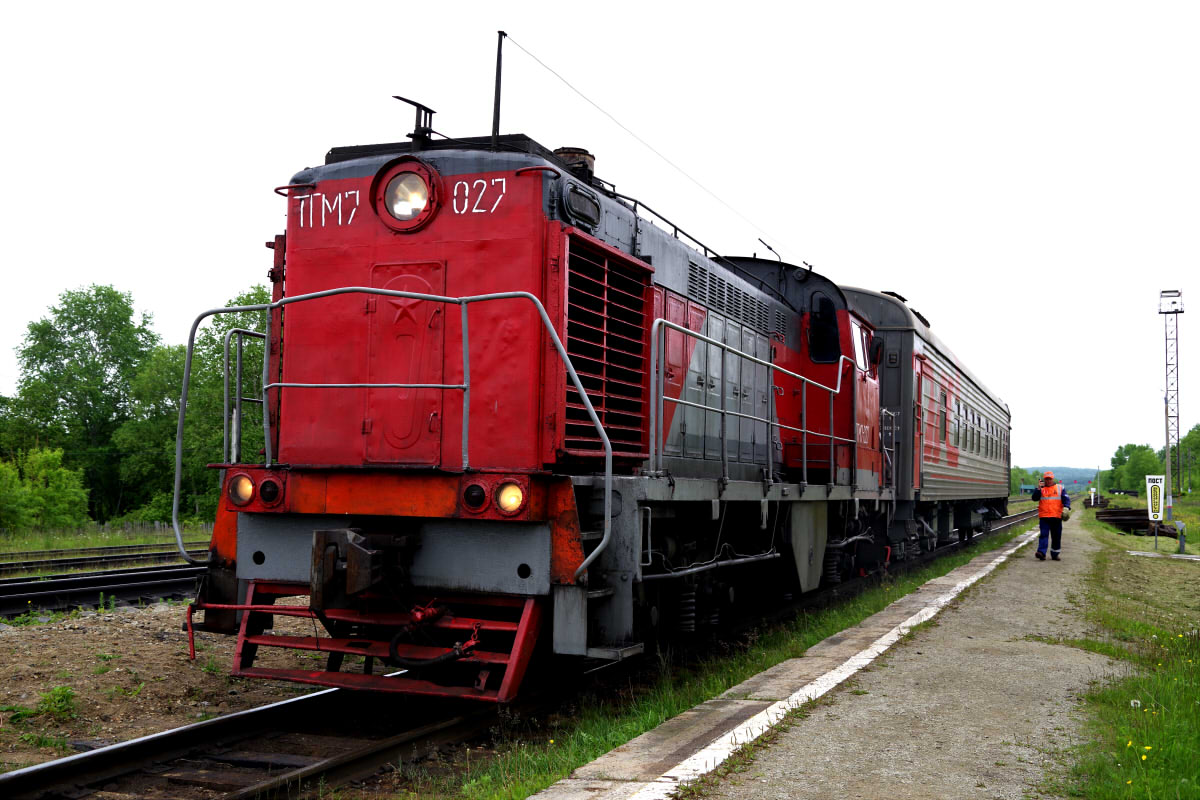 Type TGM7 was built 1974 to 1983. I couldn't find a metal plate of locomotive company, So I don't know exact year of THIS TGM7 027 was born. I only can say he is old.
Speed is 62km/h. It is very slow. From Poronaysk to Pobedino is about 90km. Riding time is over 2.5 hours.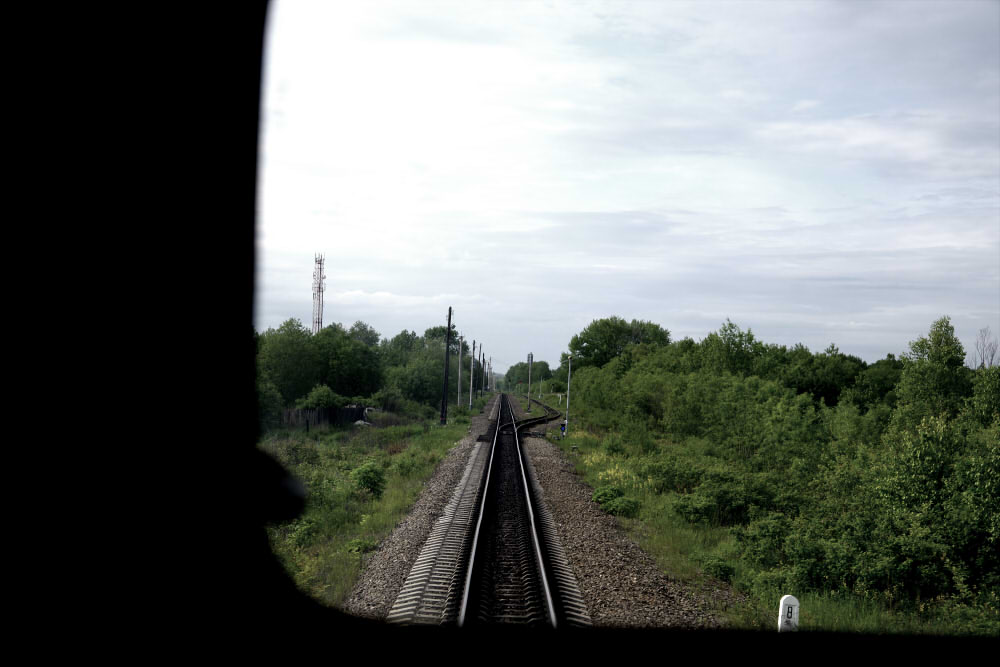 When i taking photos at Poronaysk station, I met a Russan man have sony α.  He is a press. He gave me information. This type of locomotives – pointing TGM7 – are going to be scraps. TGM7 are very old, not capable.
He says 'This become a history. Some of locomotives may going to train museum in Yuzhino-Sakhalinsk'. He adds 'This type of locomotives are quit rare. There is no 1067 wheel locomotives in the huge Russia except this.'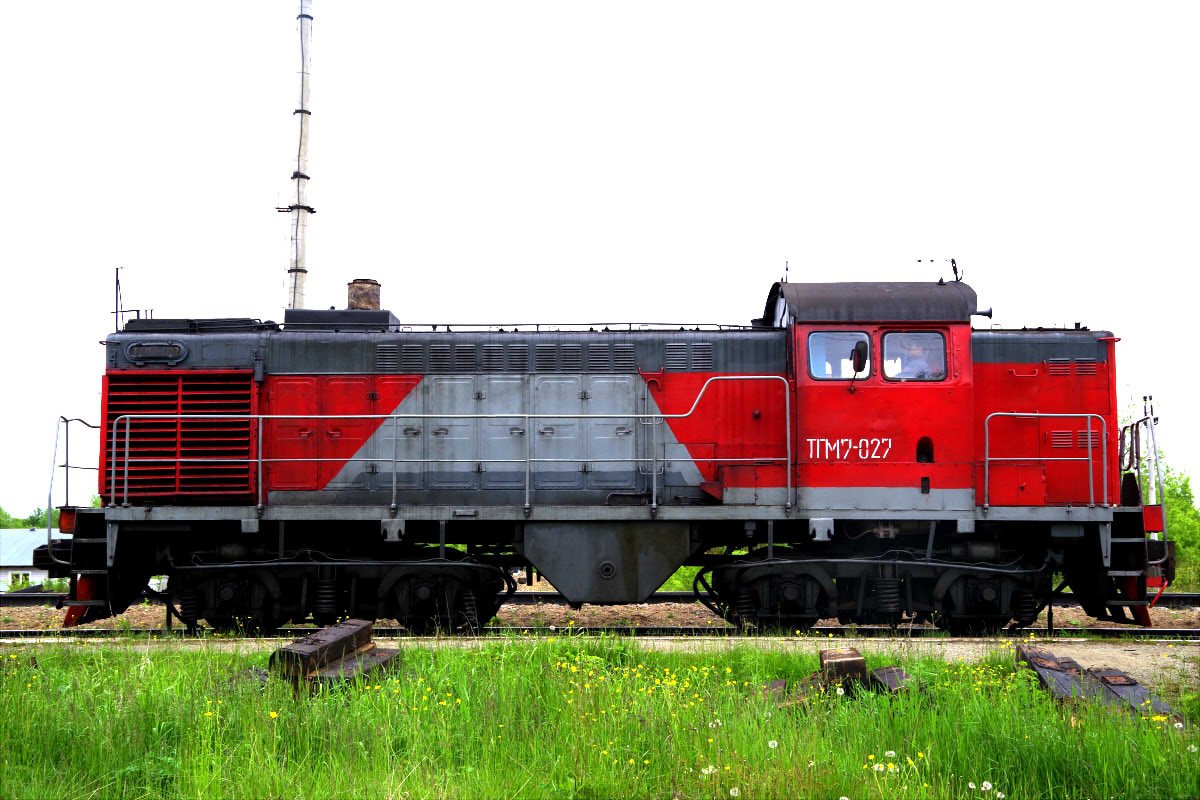 ТГ16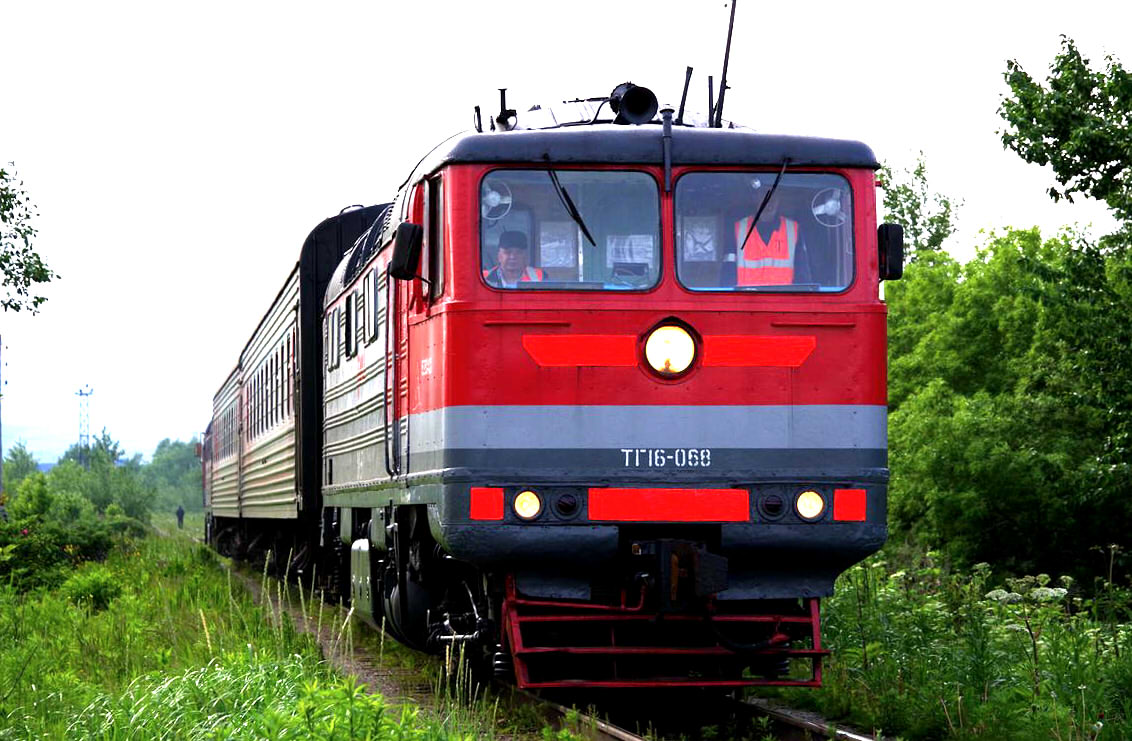 Type TG16 is operated both long distance night train and branch train in Sakhalin.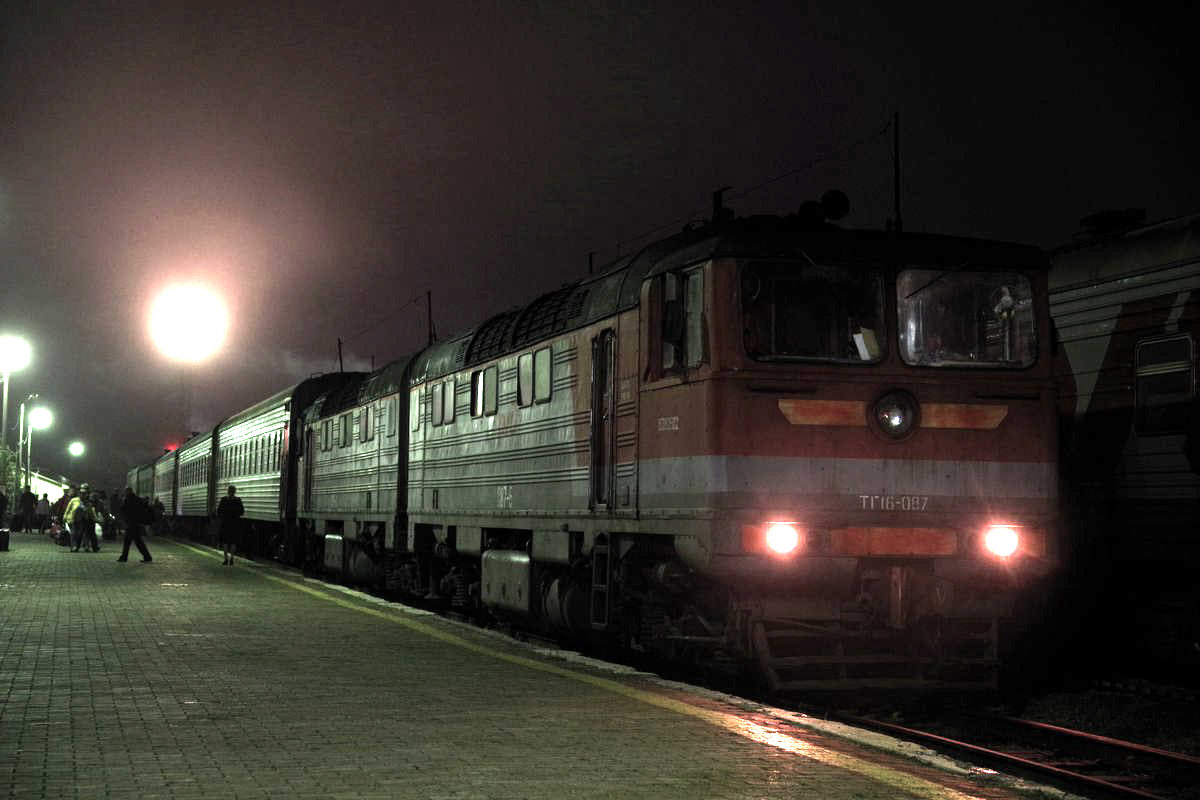 This type of locomotive was built from 1964 to 1984.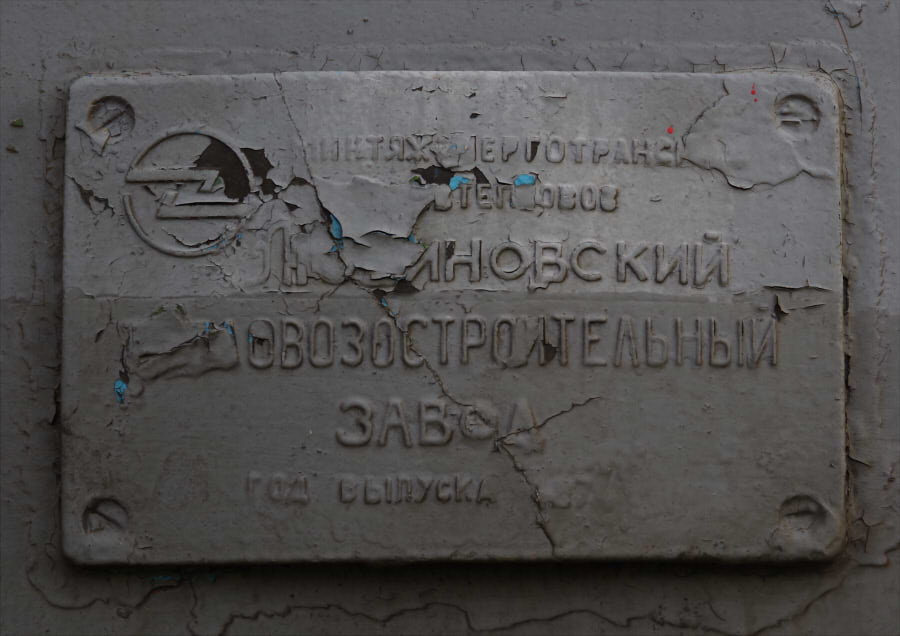 This is it! This is the evidence this locomotive was made under the former Soviet Union. is very ambiguous text. I make the photo high contrast, I can read 1974 (?).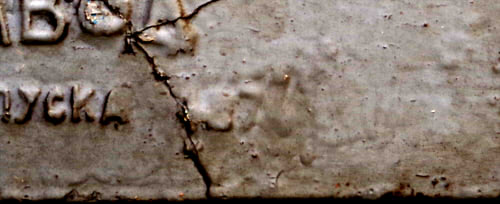 Maybe he is over 45 years old.
The locomotive built at Lyudinovsky Locomotive Plant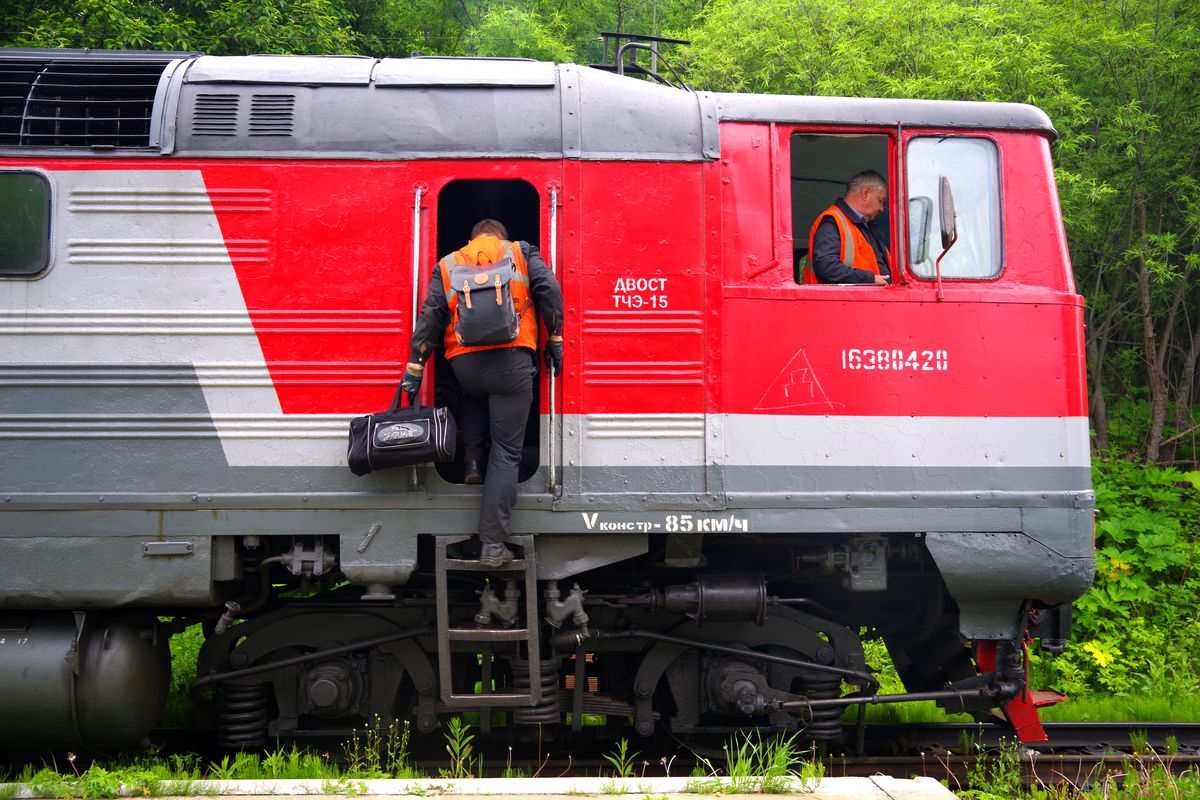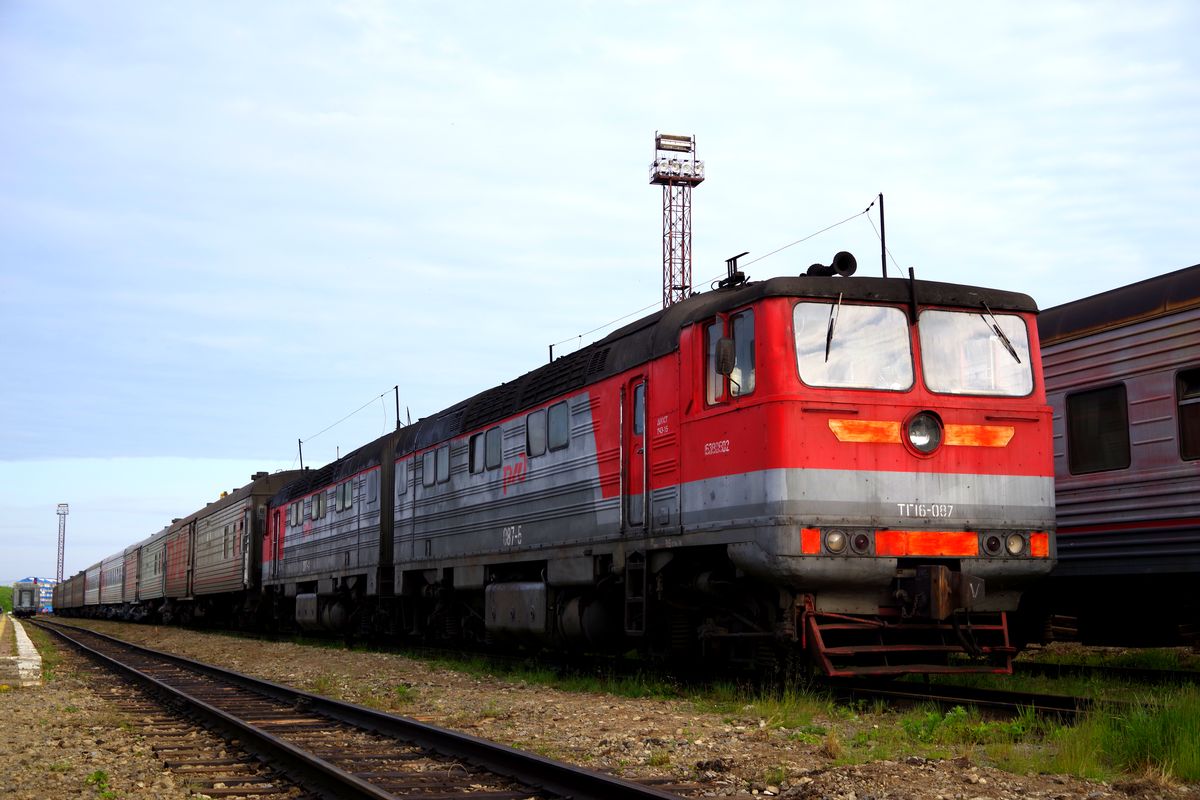 Press man i met Poronaysk station said 'This type of locomotive going to be scrap too, may be go museum.'
Passenger wagons will change the wheels, and continue operation.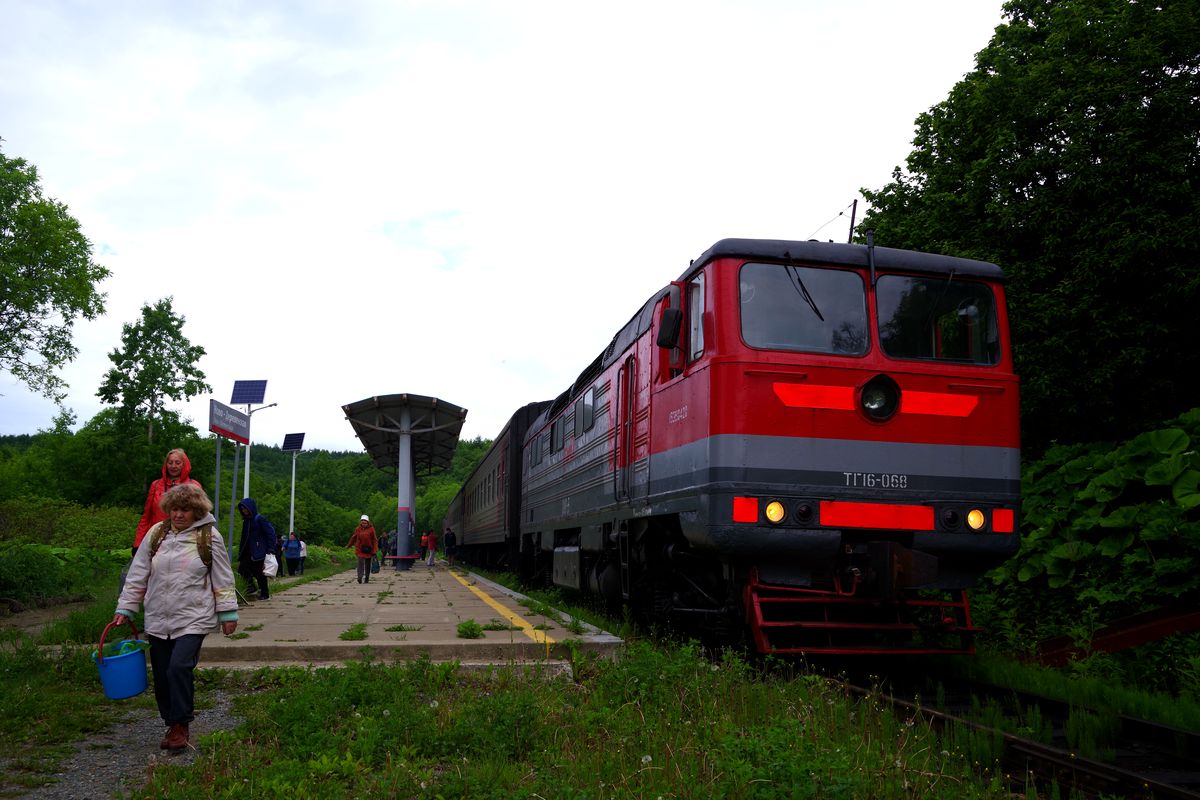 This line from  Yuzhno-Sakhalinsk to Novoderevenskoye (Новодеревенское) will going to abolish. So gauge change reconstruction never happens. Possibly ТГ16 will continue operation the short section before this line is dead. I don't know how many year or month.
Yuzhno-Sakhalinsk to Novoderevenskoye takes 30 min one way. You have a chance take a USSR 1067 mm train. Anyway, TG16 operation will stop with branch line stop in the not so far future, i think.
ТГ16М
New one already comes to Sakhalin.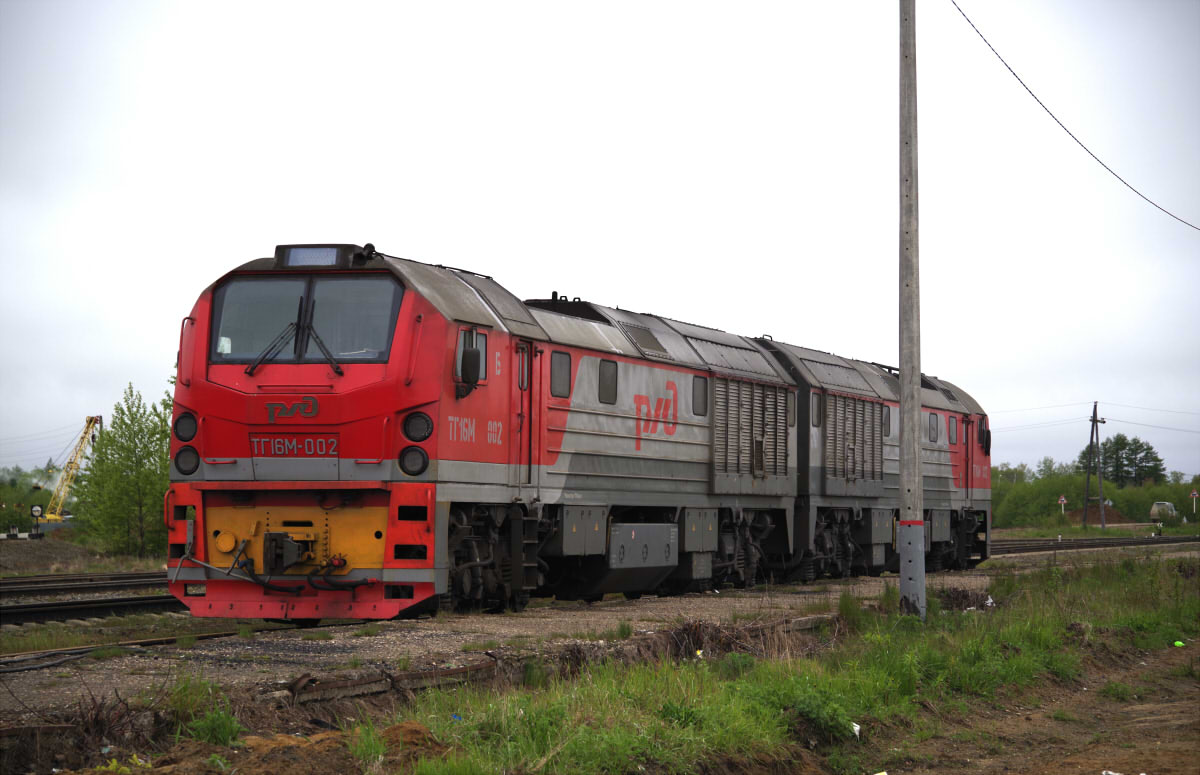 TG16M in Nogliki just waiting for end of change gauge.
Next time i visit Sakhalin, I will see him again.
Communist dead three decades before. They leave locomotives. Locomotives communist made survived today.
Now, it's time say good bye.
This is the history.
I Visited Sakhalin  Jun 21 – 25 2019.
Search RZD station timetable
This website gave you each station's timetable. Only Russian language. 
サハリン 樺太 改軌 地図 鉄道 ロシア国鉄 2019 現状 路線図 時刻表 ノグリキ ユジノサハリンスク